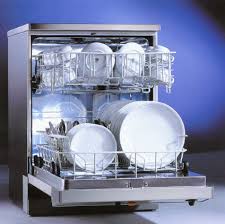 For over 20 years, Appliance Medic has helped 1,000's of homeowners with appliances not working properly – including Dishwashers.  Appliance Medic has extensive experience working on dishwashers and you can feel confident that if your dishwasher isn't working properly, Appliance Medic can help.
Common Dishwasher Issues:
Cloudy glassware.
Cloudiness may indicate poor rinsing prior to loading or extremely hard water that may require a softener.
Water will not pump out.
A clogged drain line or drain impeller may prevent water from being properly removed.
Dishes are not properly cleaned at the end of a cycle.
Dishes that are not adequately cleaned may be due to blocked spray armholes, a worn pump assembly or defective wash impeller.
The dishwasher hums and then turns off.
A dishwasher that hums and then turns off usually has a seized motor in need of replacement.
Wash cycles run too long.
Dishwasher run long when the cycle is not able to fully complete.  That may be due to a defective timer or the water may not be hot enough. .
The dishwasher does not fill with water.
Common reasons your dishwasher may not be filling with water include a defective water inlet solenoid or valve, stuck or defective overflow float switch or a malfunctioning timer not initiating the water fill.
The dishwasher is leaking.
Can be due to worn door gaskets, a leaking pump/motor assembly, or the tub-to-motor gaskets or spray arm assemblies may also be to blame.
As with any of your other home appliances, Appliance Medic offers maintenance  to ensure your dishwasher is working properly. Our professional service and repair technicians can keep your dishwasher in peak condition year-round.  Call today if you need appliance repair for your dishwasher.