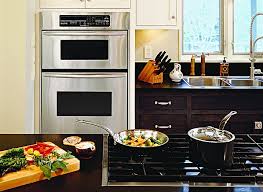 Appliance Medic has helped 1,000's of homeowners over the last 20 years with broken ovens and ranges. You can feel confident that the experts at Appliance Medic can help if your oven, stove tops or range isn't working properly.
Common Issues Seen in Ovens, Stove Tops, and Ranges
The burner won't come on.
The issue could be with the burner, the receptacle, or the switch.
The burner is too hot, regardless of setting.
This is typically a bad switch.
The indicator light stays lit.
This may also be a bad switch.
The oven is not baking or the broiler is not working.
A bad bake igniter or element may be the culprit. If you aren't getting spark to the pilot, you may need to replace the spark electrode, spark module, and/or the ignition wire.
Erratic temperatures.
Can be  a bad sensor or computer issue with the newer models. Off temperatures may also be due to the oven sensor or temperature sensor.
The oven door is stuck closed.
A misaligned self-clean latch or a defective ERC may be to blame.
The oven is not self-cleaning.
The oven may have a defective self-clean latch or the it is bent or misaligned not allowing the door to close properly.
Oven will not heat up.
It may be the bake or broil elements. On gas model the igniter should be checked.
As with other appliances for the home, you may want to schedule routine service visits with Appliance Medic to ensure that everything is working properly and fix any issues before they happen.  Call today if you need appliance repair for your range, oven or stove-top.